Slide


MACHINING
AND ROBOTIC
WELDING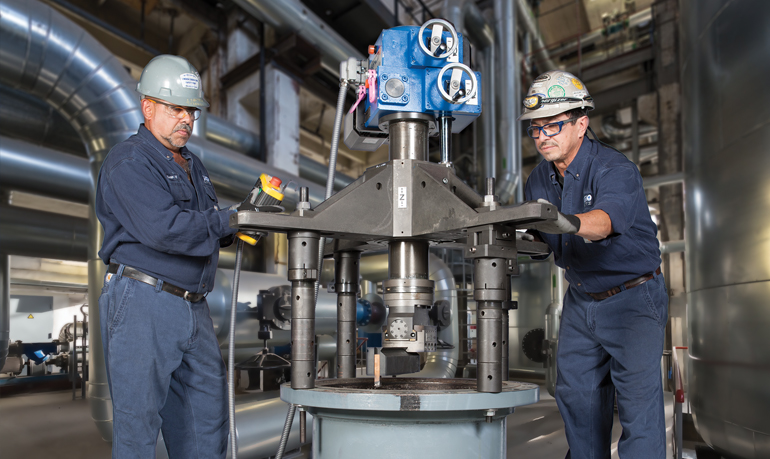 IN-LINE MACHINING AND ROBOTIC WELDING
The process begins with in-line boring machines to prepare surfaces for robotic welding passes. These machines, with their specialized fixtures, remove (undercut) integral seat and guide surface damage.
Damaged hard-faced seats and delamination are removed in critical service valves. The techniques are regularly used on main steam, non-return, discharge, turbine throttle and intercept valves. Innovative methodology and tooling solves difficult access-location issues within globe, welded-in gate and parallel slide valves.
Riggio boring, welding and facing equipment is portable and flexibly used to machine valves, pumps, flanges, turbine housings, heat exchanger tube sheets, shells and channels.
The robotic TIG process for hard-facing restoration uses approved ASME welding procedures with respective qualifications for the Inconel butter-layers. The layers are followed by Stellite #6 hard-facing overlay. Programmable welding operations are efficiently performed from 2.5" to 31" diameters and depths up to 60" in any physical orientation. Robotic welding achieves extreme high-integrity weld results with very uniform weld surfaces.
Robotic TIG welding is a correspondingly practical, efficient surface-area reconstruction for cylinders, body castings and control valve trim in a variety of materials. High-performance large bore, Y-pattern globe valves designed for high-temperature applications and stop check valve bores are typical candidates for robotic reconstruction.
To complete the restoration, post weld machining with the in-line boring machines prepare for final finish surface/seat grinding and lapping.
Hi-tech equipment, sophisticated fixtures and tooling enable extraordinary techniques. The true Riggio difference is our highly-skilled welders and machinists that execute complex processes. The results demonstrate the extraordinary precision achieved through experience, innovation as well as the incessant dedication to improvement.
WE'RE ASKING FOR TROUBLE – Call us today 201.339.2000